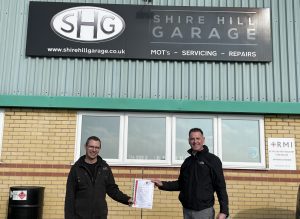 A great day working with Richard and the team at Shire Hill Garage
Pictured above is Director Richard Ormsby (Left) collecting Shire Hill Garage's Health & Safety Conformance certificate from SCS Director Carl Davis
Director Richard Ormsby wants to give his customers a service they could trust, a place to get excellent vehicle repairs at an affordable price for the work being carried out.
He offers car and van owners a quality solution – somewhere that takes great care with repairs, with a team that treats vehicles as if they were their own.
At Shire Hill Garage they offer quality work at good value prices for the work being carried out, with a highly qualified team of mechanics and engineers who are dedicated to what they do. They won't tell you that your car needs work when it doesn't, and they will never offer you anything less than the best for your car.
Customers can look forward to a welcoming, bright waiting area and a friendly atmosphere to greet you on arrival at Shire Hill Garage. With the latest in servicing and repair equipment, such as our lever-less technology to prevent wheel rim damage when fitting tyres, they are committed to offering their customers outstanding service.
For all your independent garage Health & Safety requirements contact us today
Are you meeting your GDPR requirements?
Complete our GDPR quiz to see how well you are doing.
"We had a small electrical fire at one of our sites. We contacted SCS who then arranged to meet the local fire authority & wrote for us what was described by the LFA as a well presented & very comprehensive Fire Risk Assessment. We have not looked back since"………….
Online Training. Providing effective eLearning
Find out more about our training, including the extensive catalogue from our partner iHasco