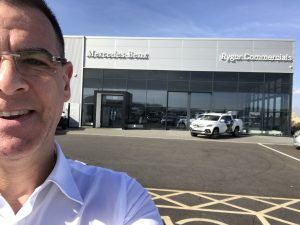 Being an Automotive Health and Safety expert covering a vast amount of different franchises I have always gravitated towards Mercedes Benz as my preferred choice of cars.
In recent years I have purchased 11 Mercedes for both myself and my wife from the same Dealership at the brilliant Sandown Mercedes in Salisbury.
Just when I thought you couldn't get enough of a good thing, I was delighted when one of the largest independent Mercedes Truck Dealers, Rygor Commercials asked us to help with their 10 amazing retail sites.
It looks like I have gone from being a massive petrol head to a massive diesel head.
If you work within any of the Mercedes franchises and would like expert Health & Safety advice then contact us today.
Are you meeting your GDPR requirements?
Complete our GDPR quiz to see how well you are doing.
"Health & Safety is an area which is forever changing and updating. Therefore I was more than happy when I heard about SCS. They are on site every month and always at the end of the phone. Not being a lover of Health & Safety it was good to know it was not a 3 or 5 year contract either. Well done lads keep up the good work"………..
Online Training. Providing effective eLearning
Find out more about our training, including the extensive catalogue from our partner iHasco