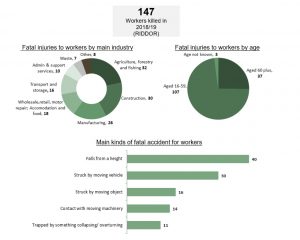 The latest annual figures for work-related deaths are published by Great Britain's independent regulator for work-related health, safety and illness.
The Health and Safety Executive (HSE) has today published its latest work-related, fatality figures, reported to enforcing authorities for Great Britain in 2018/19.
The report (download full report here) highlights fatal injuries reported within the stated time period to both workers and members of the general public, impacted via a workplace accident.
The incidence of work-related fatality was 147, an increase of six from the previous year, but deemed within the range of natural variation rather than an indicative trend. Broadly speaking, fatalities remain at a fairly consistent level across recent years.
In terms of the employment sectors represented, Construction, Agriculture, Forestry & Fishing, and Manufacturing remain the most affected in terms of the highest number of fatality by count.
The most likely cause of a workplace death, by injury type, remains 'Falls from height', followed by 'Struck by a moving vehicle'
For further information on avoiding fatalities then contact us today
Are you meeting your GDPR requirements?
Complete our GDPR quiz to see how well you are doing.
"Thanks a million. Your advisors always remind us when the lifting equipment & compressors at our sites need servicing. Its a good job because I have a memory like a sieve"……………..
Online Training. Providing effective eLearning
Find out more about our training, including the extensive catalogue from our partner iHasco