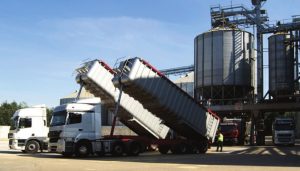 A grain store company has been fined following the death of a worker at its site in Linton, Cambridgeshire.
Peterborough Crown Court heard how on 27 July 2016 an employee of Camgrain Stores Ltd suffered fatal injuries after being struck by a lorry at the site. Mr. Edward Orlopp had left the control room to walk across the site and on leaving the building he walked in front of a moving lorry. The driver had checked his mirrors but he did not see the employee and moved forward fatally injuring the employee.
An investigation by the Health and Safety Executive (HSE) found that Camgrain Stores Ltd had failed to ensure that pedestrians and vehicles could move safely around the site and that they had not provided measures to prevent employees walking into areas where large vehicles are moving.
Camgrain Stores Ltd of London Road, Balsham pleaded guilty to breaching Section 2 (1) of the Health and Safety at Work Act 1974. The company has been fined £180,000 and ordered to pay costs of £20,000.
After the hearing HSE inspector Stephen Faulkner said: "Being struck by vehicles is one of the most common causes of workplace fatal accidents. This was a tragic and wholly avoidable incident caused by failure of the host company to undertake a number of simple measures."
For further information on avoiding fatalities then contact us today
Are you meeting your GDPR requirements?
Complete our GDPR quiz to see how well you are doing.
"Health & Safety is an area which is forever changing and updating. Therefore I was more than happy when I heard about SCS. They are on site every month and always at the end of the phone. Not being a lover of Health & Safety it was good to know it was not a 3 or 5 year contract either. Well done lads keep up the good work"………..
Online Training. Providing effective eLearning
Find out more about our training, including the extensive catalogue from our partner iHasco