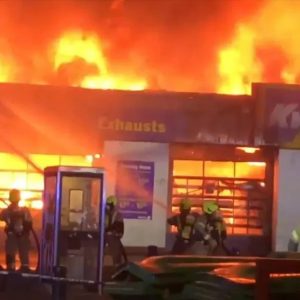 70 firefighters and 10 fire engines tackled blaze.
An investigation into the cause of a fire at an east London Kwik Fit branch last month is now underway.
The blaze broke out at Kwik Fit, High Street North, shortly before 10pm on Tuesday, August 13.
Ten fire engines were called to the scene, with around 70 firefighters tackling it.
People living nearby were evacuated as a precaution.
The London Fire Brigade have said in a statement: "The single storey unit was badly damaged by fire.
"People from neighbouring properties have been evacuated."Fire crews from East Ham and surrounding fire stations.
"The cause of the fire is under investigation."
Dramatic footage was shared on social media showing flames tearing through the workshop as smoke billowed into the sky.
SCS have carried out hundreds of FRA's for garage throughout the UK so contact us today for expert advice.
Are you meeting your GDPR requirements?
Complete our GDPR quiz to see how well you are doing.
"We always manage to mess your consultants around one way or another by changing our appointment times at the last minute, it never seems to be a problem for you. Great job guys"………………
Online Training. Providing effective eLearning
Find out more about our training, including the extensive catalogue from our partner iHasco