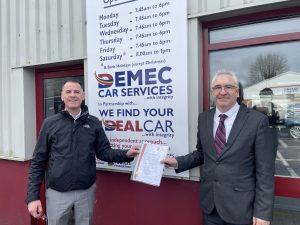 Pictured above is Demec's new owner Martin Dunn (right) collecting Demec's Health & Safety Conformance certificate from SCS Director Carl Davis
Demec Car Services really do take care of your car. Located in Basingstoke, they provide a complete vehicle care package including routine servicing, MOTs, mechanical repairs and everything else you might need to keep your car running in tip top condition.
Servicing
Getting your car serviced regularly according to the manufacturer's recommendations is important. Not only will it avoid mechanical problems, it will preserve the value of your car and may be a condition of your warranty. As an independent garage they are often able to provide routine services considerably cheaper than the main dealers, and we will do an equally good job and ensure your service history is kept up to date.
There is never an optimum time to get your car serviced or repaired so they understand that your time is important to you. Their policy is to minimise inconvenience to their customers. From the moment you check in your vehicle they will do their best to get it ready to go as quickly as possible. Their technicians are fully trained and able to work on any make of car.
MOT Centre
Ensuring that you have a current MOT is common sense. Failing to do so is not only against the law, it could jeopardise any insurance claim you might make. Even if not having an MOT doesn't invalidate your insurance, it will certainly reduce your insurers valuation of your vehicle reducing your compensation should they decide to write it off. They have modern purpose built MOT testing bay that allow them to complete the test quickly while you wait or leave the car with us; so why not book online?
Between service care
They don't just fix your car. They are happy to advise our customers on how to keep their vehicle in great condition between services. It might seem that cars develop problems at the least convenient times, for instance air conditioning always seems to go wrong on the hottest summer days and batteries often fail on the coldest winter mornings.
Keep up the good works guys
For all your independent garage Health & Safety requirements contact us today
Are you meeting your GDPR requirements?
Complete our GDPR quiz to see how well you are doing.
"Due to my retirement the position of H&S manager was going be undertaken by an outside agency. After numerous meetings with consultants I was pleased the duty fell upon SCS. They were enthusiastic about their role with us & also came highly recommended by other people in the trade"…………
Online Training. Providing effective eLearning
Find out more about our training, including the extensive catalogue from our partner iHasco