Software.
For the past 27 years the Directors of SCS have been a fore runner in software produced Health & Safety and have moved away from the archaic paper in folders format, which many of our competitors still use today. Gone are the days of thumbing through page after page from an A4 folder, instead anything can be found alphabetically at the click of the mouse on our SCS Online© server.

Auditing App's.
We are delighted to announce that our 2nd Generation of Health and Safety auditing App's are now available. This speeds up the auditing process, thus reducing time on site and ultimately saving the client money.
Having compared other auditing Apps we are confident that ours is far superior and is linked live to our SCS Online© server, so the client can see and discuss our findings in real time. The 3 different App's are for large dealers/depots, small independent garages & finally Bodyshop's.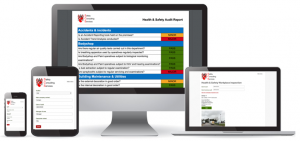 Competent Person.
The HSE gives guidance in this area & states that you must have competent advice to help you meet your Health & Safety duties. This can be workers within your business or external consultants. SCS can act as your competent person and in doing so will ensure to practice due care to avoid potential prosecution to all parties.
Bespoke.
The word generic is not a word in the SCS vocabulary or is looked kindly upon by the HSE come to that. Therefore your package will be tailor made to suit your ever changing situation. Whether you are down sizing or taking on new premises, we will adapt because 'one size does not suit all'.
Updates.
As legislation changes we do too. You can have peace of mind knowing that we will keep you up to date with the latest developments in Health & Safety with regular visits, quarterly audits & constantly reviewed software.
Partnership.
We will work very closely over the period of time to get you compliant so you can be rest assured that you will see the same qualified advisor at each visit to keep continuity. This bodes well between both senior management & workshop staff alike to alleviate the infamous 'Them & Us' scenario and bridge the Health & Safety Culture within the business. In addition to this we are more than happy to attend your quarterly management meetings to present overview of your companies Health & Safety performance.
Hassle Free.
Once you give us the green light your worries are over. Those categories such as……..Noise,PPE, Manual Handling, COSHH, Environment, VDE, Work Task & Fire will be taken care of by us and you will be given a simplfied & easy to understand overview. We do all the work so you dont have too. As one one client said 'You do every thing except put the signage on the walls'.
Moral.
A good Health & Safety Management structure does help you comply with the law and it certainly is the right thing to do. But, it's more than just that. It can lead to real benefits such as saving money, improving productivity, raising moral and helping create a happier, healthier workforce. This is not theory this is fact. So let us take the strain and help you make this happen.
Reputation.
Health & Safety is the most important function in any business. If ignored the effects can be catastrophic to your reputation, the safety of your employees & also the financial implications. To avoid these consequences you need to be sure you have a consultant you trust. SCS are here to help your organisation run smoothly and efficiently so leave it to us and you can then concentrate on what you do best.
Are you meeting your GDPR requirements?
Complete our GDPR quiz to see how well you are doing.
"Right from the outset you have shown that Health & Safety is not just a boring subject. In doing, so have introduced the team to cultural awareness and their responsibilities to each other and the company. I will be recommending you to my friends"………….
Online Training. Providing effective eLearning
Find out more about our training, including the extensive catalogue from our partner iHasco