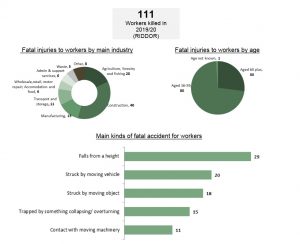 Yet again the second highest cause of workplace fatality was being struck by a moving vehicle.
Other Key figures for Great Britain (2018/19)
1.4 million working people suffering from a work-related illness
2,446 mesothelioma deaths due to past asbestos exposures (2018)
111 workers killed at work (2019/20)
581,000 working people sustaining an injury at work according to the Labour Force Survey
69,208 injuries to employees reported under RIDDOR
28.2 million working days lost due to work-related illness and workplace injury
£15 billion estimated cost of injuries and ill health from current working conditions (2017/18)
For further information on avoiding serious incidents then contact us today
Are you meeting your GDPR requirements?
Complete our GDPR quiz to see how well you are doing.
"Health & Safety is an area which is forever changing and updating. Therefore I was more than happy when I heard about SCS. They are on site every month and always at the end of the phone. Not being a lover of Health & Safety it was good to know it was not a 3 or 5 year contract either. Well done lads keep up the good work"………..
Online Training. Providing effective eLearning
Find out more about our training, including the extensive catalogue from our partner iHasco