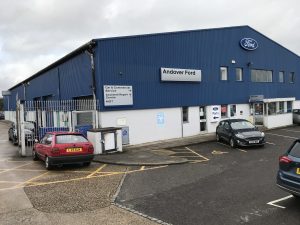 We are delighted to be working alongside Ford accident repair centre in Andover to deliver Health & Safety Compliance
Their expert team have years of experience performing serious and cosmetic accident repairs on all makes & models and not just Fords.
The accident repair team are experienced and dedicated, and are always willing to go the extra mile to make sure that your vehicle is restored to its original state. Their accident repair service is approved by all major insurance companies, allowing you to get the necessary repairs through a trusted dealership that is local to you.
Being involved in a car accident, whether serious or a scrape, is a stressful time for any vehicle owner. To make this process as stress-free as possible, they also offer a free collection and delivery service of your vehicle within a 60-mile radius from our Andover accident repair centre.
If you've had been involved in a collision or simply scraped your alloy wheels or bodywork, get in touch with their accident repair centre to see how they can help. Their online enquiry form allows you to upload pictures of your repair work along with information about your car, allowing one of their dedicated team to get back to you as quick as possible with your free quote.
For all your bodyshop Health & Safety needs then contact us today
Are you meeting your GDPR requirements?
Complete our GDPR quiz to see how well you are doing.
"Health & Safety is an area which is forever changing and updating. Therefore I was more than happy when I heard about SCS. They are on site every month and always at the end of the phone. Not being a lover of Health & Safety it was good to know it was not a 3 or 5 year contract either. Well done lads keep up the good work"………..
Online Training. Providing effective eLearning
Find out more about our training, including the extensive catalogue from our partner iHasco